Patríme medzi ASUS reseller partnerov. Pre viac kusový odbyt nie len notebookov, ale aj celého sortimentu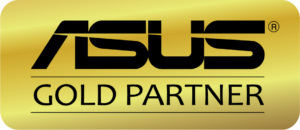 ASUS, môžete dopytovať projektové ceny na asus@it-computers.sk.
Popis produktu:
Procesor:
Intel® Core™ i9-9980HK Processor 2.4GHz (16M Cache, up to 5.0GHz)
Operačný systém:
Windows 10 (64bit) Professional
30 dňová trial verzia Office 365 Customers
Pamäť:
32GB DRAM DDR4 2666 MHz (2x16GB)
4 x Memory Slot,
max.64GB
Displej:
17.3″ FullHD (1920×1080) 16:9 LED-podsvietenie, matný, IPS
(17.3'//LED Back-lit//Ultra Slim/B 300nits//FHD 1920×1080 16:9//AG//NTSC:72%//WV, 144Hz)
Grafická karta a pamäť:
NVIDIA® GeForce RTX™ 2080, GDDR6 8GB
Pevný disk:
PCIE NVME 512G M.2 SSD(Hyper Drive)
PCIE NVME 512G M.2 SSD(Hyper Drive) *2
Optická mechanika:
nema
Čítačka kariet:
SD
Video kamera:
HD web camera
Komunikácia:
Wi-Fi 5(802.11ac) 2*2 + Bluetooth 5.0 (*BT version may change with OS upgrades.)
10/100/1000 Mbps ( 2,5G)
Klávesnica
podsvietená, US klavesnica
Rozhrania:
3x Type A 3.1 (Gen.2)
1x SD
1x Type C 3.1 (Gen.2)
1x Headphone out and 1x MIC in
Thunderbolt3.0 via 1x SP
1x HDMI 2.0
1x TypeC (DP1.2)
1x mDP 1.4″
Rozmery:
42.5(W) x 31.9(D) x 4.75 ~ 5.10(H) cm
4,70 kg (s 6 článkovou batériou)
Batéria a adaptér:
8 článková 96 Whrs
280W AC Adapter (20V), 6mm
Píslušenstvo:
nema
Záruka:
Celosvetová záruka na hardvér 2 roky, 1 rok záruka na batériový článok
Na objednávku do 3 – 5 dní.